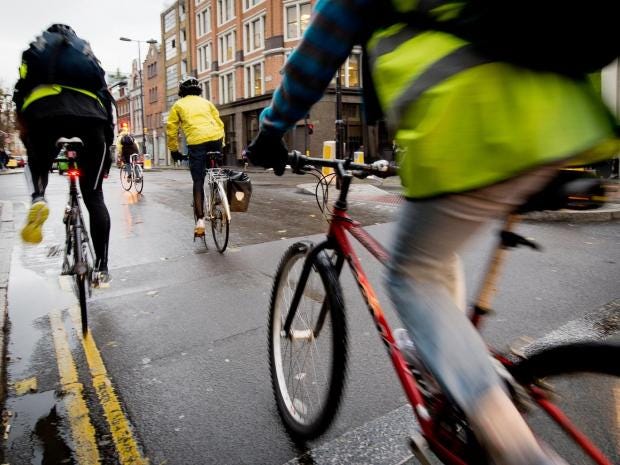 Commuters who swap their car or bus pass for a bike could cut their risk of developing heart disease and cancer by almost half, new research suggests – but campaigners have warned there is still an "urgent need" to improve road conditions for cyclists.
Cycling to work is linked to a lower risk of developing cancer by 45 per cent and cardiovascular disease by 46 per cent, according to a study of a quarter of a million people.
Walking to work also brought health benefits, the University of Glasgow researchers found, but not to the same degree as cycling. pants were asked how they traveled to work on a typical day. Their health was monitored for five years and the results adjusted for variables such as sex, age, existing illness, smoking and diet.
Overall, people who cycled to work were found to have a 41 per cent lower risk of premature death from any cause, compared to those who drove or took public transport.
The scientists said: "The findings, if causal, suggest population health may be improved by policies that increase active commuting, particularly cycling."
These policies could include "the creation of cycle lanes, cycle hire or purchase schemes, and better provision for cycles on public transport," they wrote in the British Medical Journal (BMJ).
"Mixed" commuting, including both active and non-active modes of transport, was also associated with some health benefits, but only if the active part of the journey involved cycling.
"A shift from car to more active modes of travel will also decrease traffic in congested city centres and help reduce air pollution, with further benefits for health," added Professor Lars Bo Andersen, from the Western Norwegian University of Applied Sciences.
In an editorial, Professor Andersen said switching to cycling or walking could save lives and reduce the cost to the NHS of cardiovascular disease, currently estimated at £15bn a year.
Jason Torrance of cycling charity Sustrans told The Independent cycling to work was "a proven way for people to improve their health, to help their local economies and to improve their productivity at work".
"There's an urgent need to improve road conditions for cyclists and transforming local roads and streets into places that people feel safe and want to be," he said.
"Some cities are taking a leading role in doing that, like London and Manchester, which are doing some fantastic things. But more needs to be done."